- akcije
- antropologija
- arheologija
- bankarstvo
- beletristika
- biznis
- ekonomija
- etnografija
- etnologija
- filozofija
- finansije
- gastronomija
- geopolitika
- istorija
- istorija umetnosti
- istraživanja
- jezik
- književnost
- kontrola kvaliteta
- lingvistika
- menadžment
- metodika
- narkomanija
- novinarstvo
- obrazovanje
- pedagogija
- popularna psihologija
- pravo
- psihologija
- religija
- saveti
- slikarstvo
- sociologija
- sport
- srpski jezik
- turizam
- zaŔtita












---
CENOVNIK
OZNAKA
Cena čitanja CELOG teksta
Besplatno
1 dinar
50 dinara
100 dinara
---
Ukupno članova: 9075
Najnovi član: kokobrajs

---
Najnoviji tekstovi:
---
---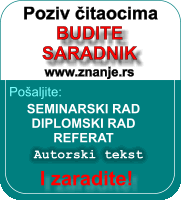 ---
---
drustvo:::pedagogija


9. januar. 2009.




MULTIMEDIAL EDUCATIONAL SOFTWARE: ,,PLAYING AND LEARNING COMPUTER"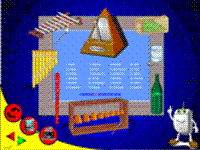 Summary: The project "Playing and learning computers" is a result of a long work, experience and research in practice. In this area, it is a pioneering attempt to build in the latest scientific knowledge about development of learning programmes into development of educational software. The target group of this educational software consists of pupils and teachers from first to fourth grade of primary school. The whole package includes a DVD as a basic teaching aid and a "Multi-purpose didactic-methodic reference book" intended for teachers. The disc includes seven areas of which five are school subjects (1. Mathematics, 2. Serbian language 3. The world around us 4. Art 5. Music). The contents of these areas are not systematized curriculum of these school subjects but their complement. The total number of assignments is 175 which are all animated and given in the form of problem assignments. One quarter of them is set as practical assignments. Presented material completely covers the optional school subject "From Toy too computer" taught in first grade of primary school. The disc also contains libraries of drawings and sound with more than 1000 units intended for teachers' preparation and initial steps of animation. Working with this programme makes learning and testing much more interesting and it improves development of logical thingking, observation and combinatorics, that is cognitive and conative solutions of problem assignments. Solving the assignments, pupils unconsciously start learning how to work on a computer without even being aware of it.
     Key words: instructional design, cognitive theory of learning, multimedia principles, work oriented teaching, problem assignments, development of manipulative skills of hands, work on a computer.
     

Snimi ceo tekst
     
     
word document
13 strana
210 kb
ENGLESKI JEZIK
English language



Dr Slavoljub Hilčenko




Zasad nema komentara na ovaj tekst!



AKTIVNI OGLASI:
| Poslovi | Nudim znanje | Tražim znanje |
| --- | --- | --- |
| obuka | 2 | 0 |
| administracija | 0 | 1 |
---
Najnoviji blogovi:
---
---
---